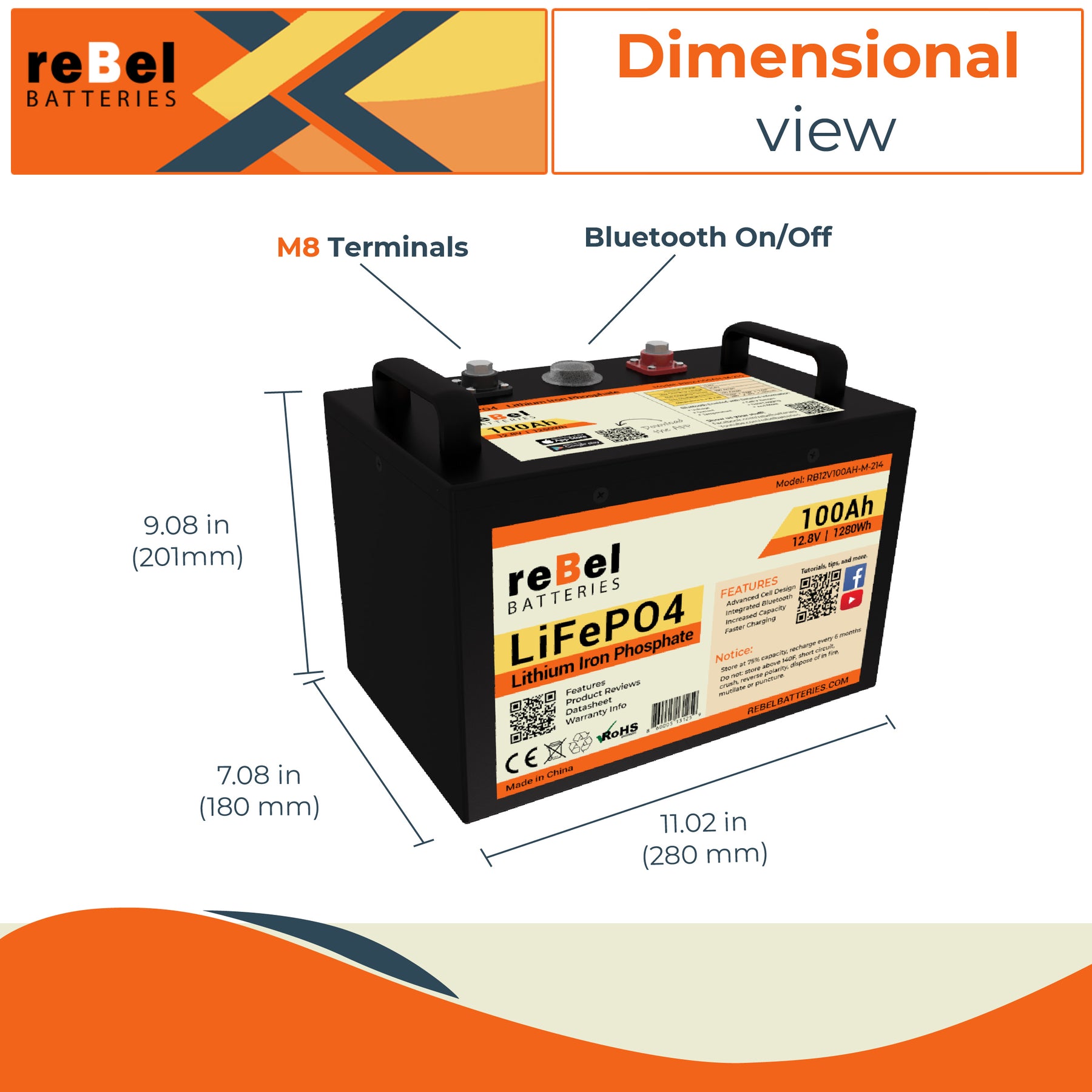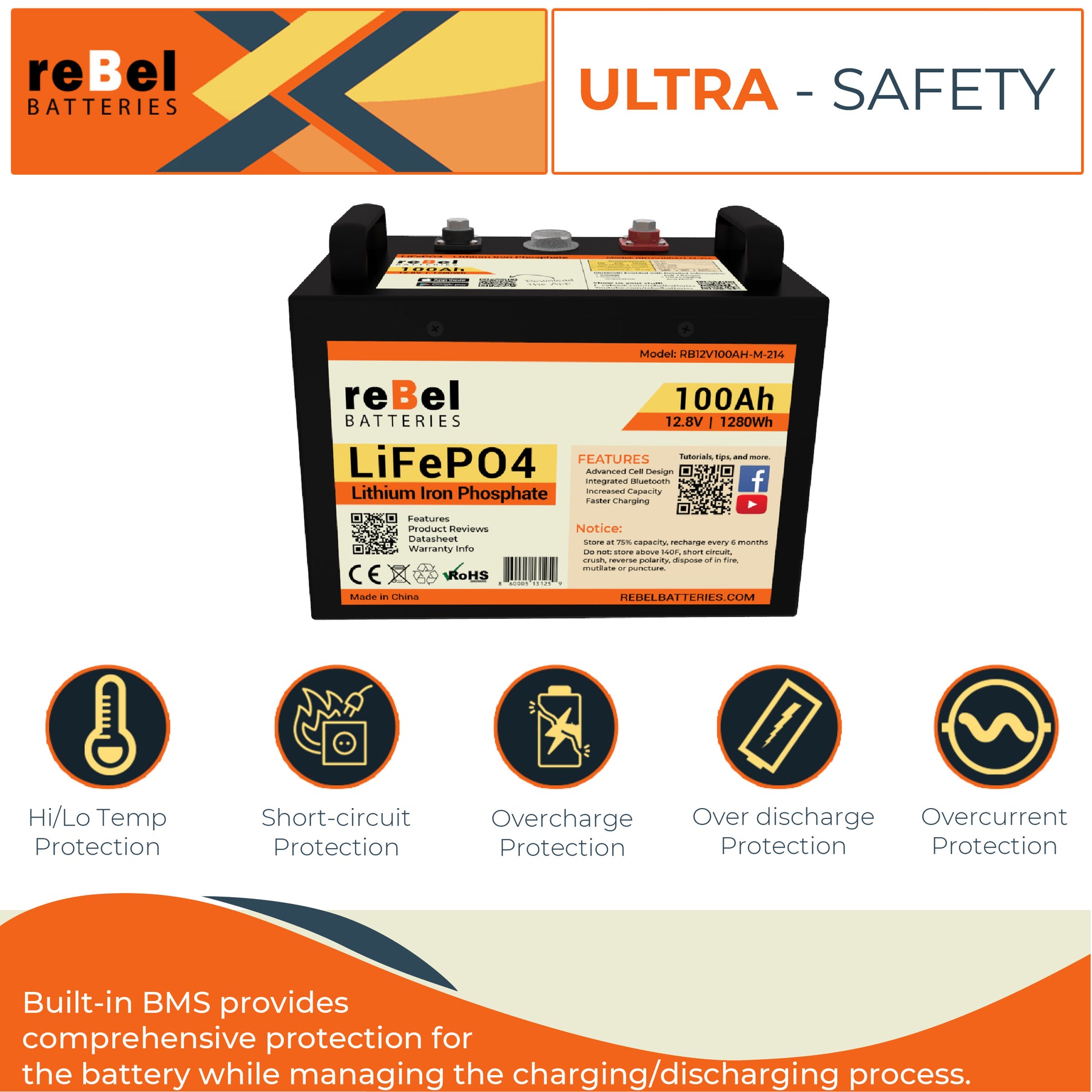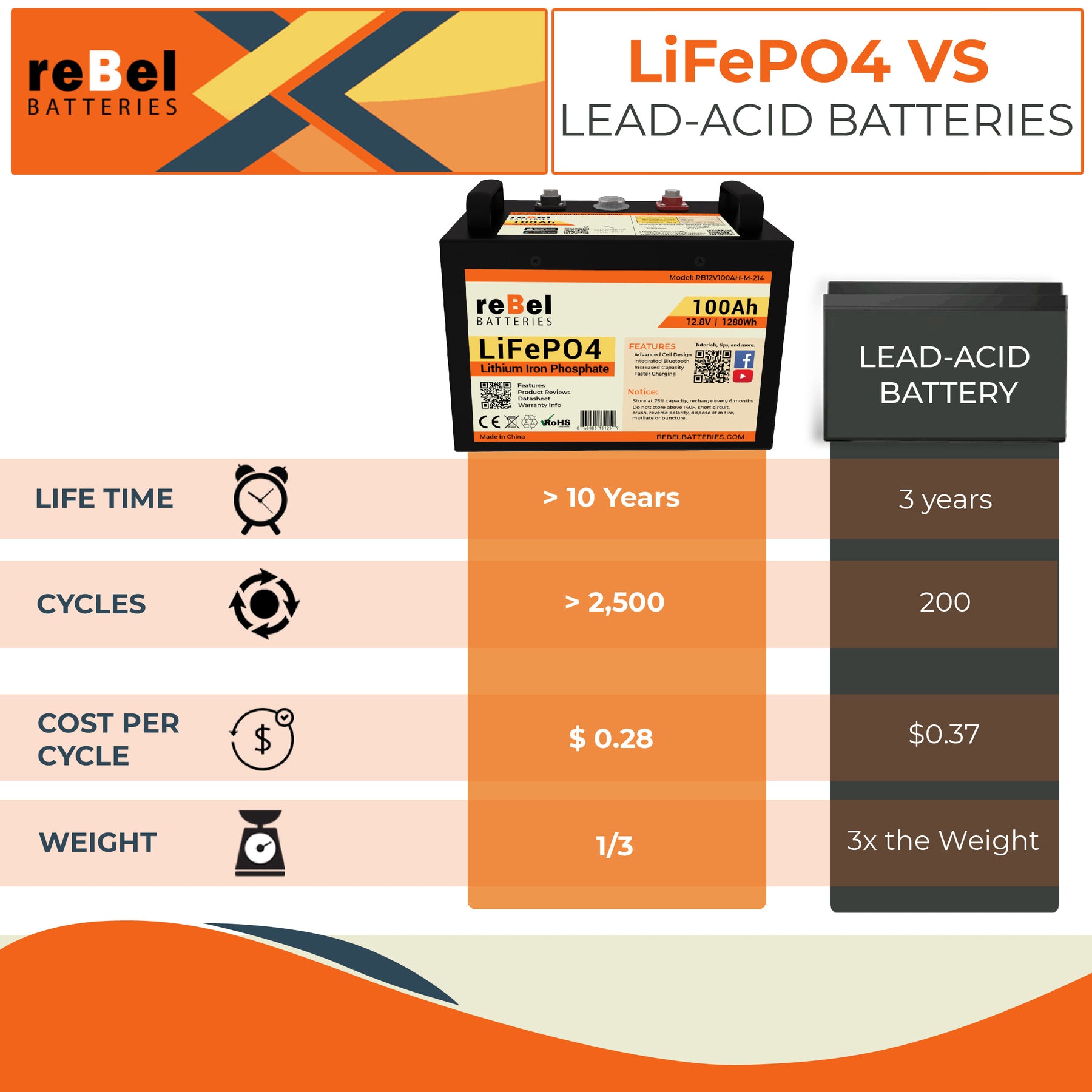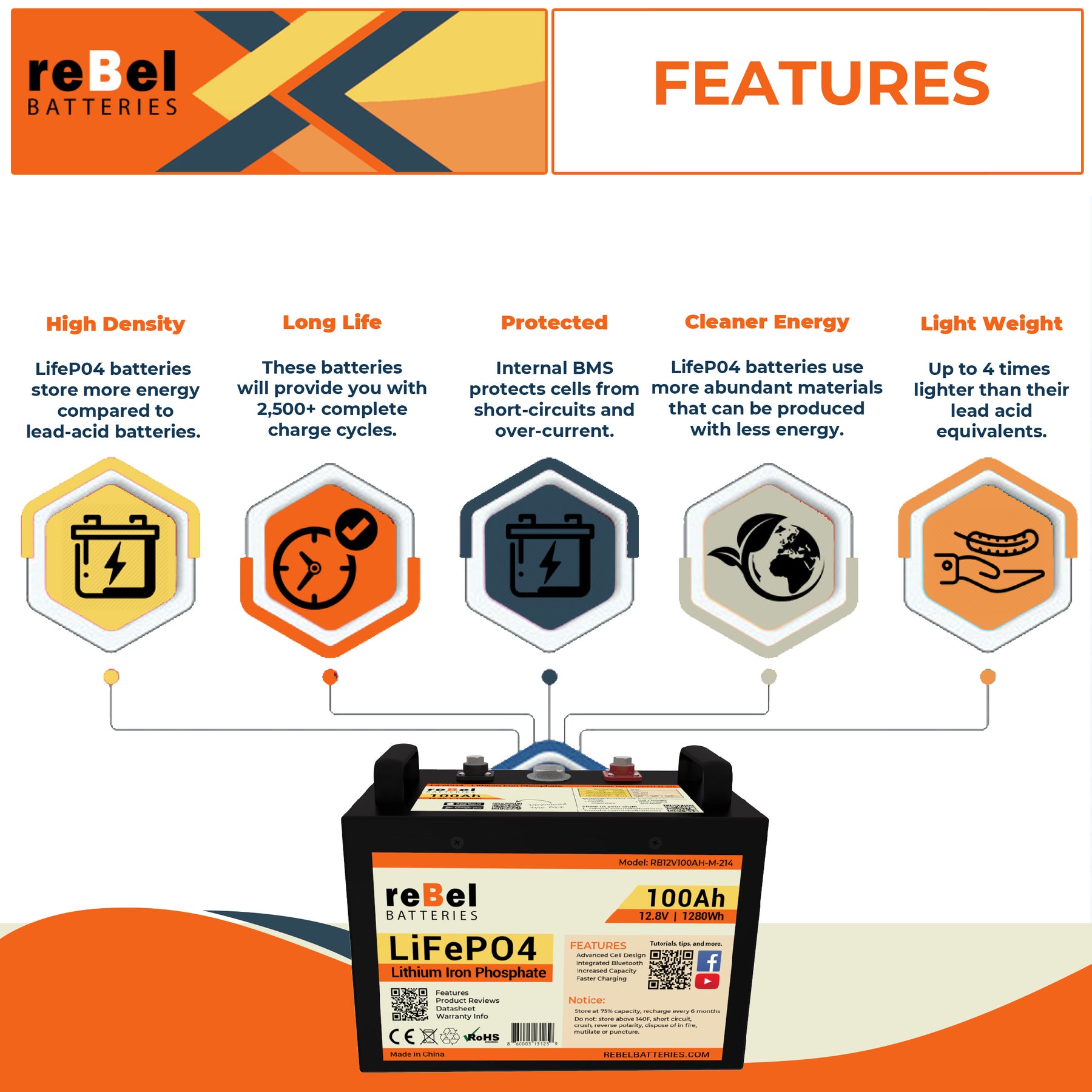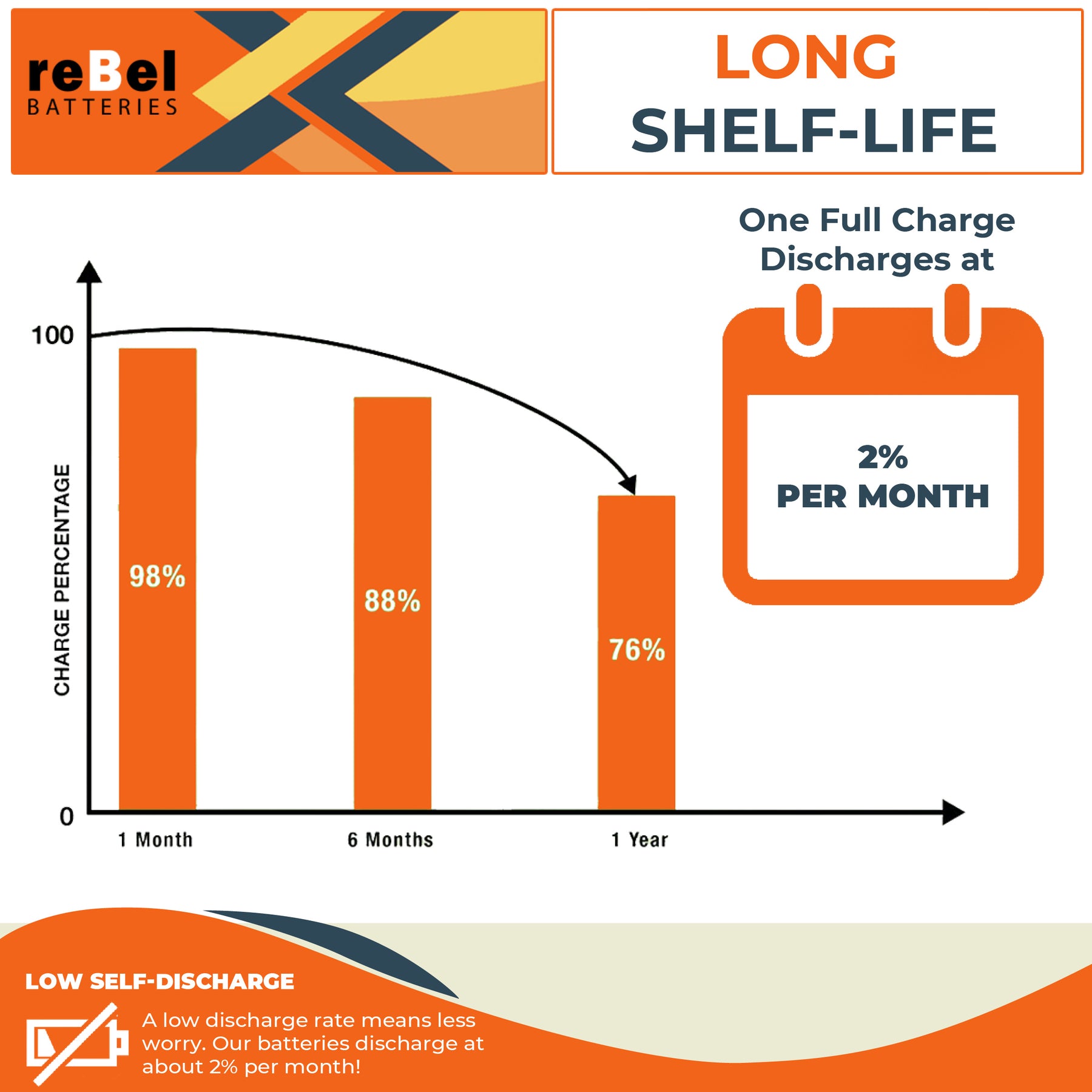 LiFePO4 12V 100Ah 1280Wh Bluetooth Enabled Rechargeable Lithium Iron Phosphate Battery - Metal Case
The LiFePO4 12V 100 Ah battery is our metal-cased 100AH drop-in replacement for lead-acid batteries.  These batteries have a longer service life, lighter weight, more efficient power, and all-around versatility.
Connect multiple batteries in parallel (up to 16) to increase storage capacity.
Connect in Series for higher voltage applications (up to 48V).
No special configuration settings for parallel/series operations.
Our LifePO4 12V 100Ah comes with Bluetooth connectivity to see and change* dozens of parameters via a connected app available on Android and iOS.
With Lithium Iron Phosphate (LiFePO4) batteries you have several advantages over lead-acid equivalents.  LiFePO4 offers 2500-7000 charge cycles depending on the depth-of-discharge per cycle, while lead-acid is typically expended after 200-300 charge cycles.
LiFePO4 also allows for 100% discharge, whereas lead-acid can not be drained more than 50% without damaging the battery.  If you buy a 100Ah lead-acid battery, you only get 50Ah usable Ah.  12v 100Ah LiFePO4 batteries provide 100% of the available Amps, with no ill effects on the battery.
If weight is a concern, our LiFePO4 12V 100Ah rechargeable battery weighs one-third of the lead-acid equivalent.  That means, no more lugging around an 80-90 pound battery, Ours weighs in at just 27 pounds.
If all these advantages weren't enough, you also get complete built-in protection on our 12v 100Ah LiFePO4 batteries with an advanced BlueTooth enabled Battery Management System (BMS).  It will protect you from short circuits, overcharging, over-discharging, over-current, as well as high temperature and low-temperature cut-offs.
If you need battery with a waterproof rating, please consider our ABS version.
*Expert users can change the BMS settings (via Bluetooth App) to your custom application if needed. 
Video
Original Tear-Down
Specifications
LWH - 11.02" x 7.08" x 9.08"
Weight - 27 LBS
Max Charge/Discharge - 100 Amps
Parallel Capable - Yes (up to 16 units)
Series Capable - Yes (up to 4 units, 48 Volts)
Case Material - Powder Coated Steel

IP Rating: IP50 (do not use near water or high moisture areas)
Downloads
very Bad customer serivce
hey eric i like how you Removed my Review ....i see you have removed everyone Bad reviews.... that just Not for us Honest people it Not right that you Ignore people and you Don't Backup your Batteries very Bad customer service He Does Not help you at all i would Not Recommend rebel Batteries.................................................................................................................................................................................................................
Have not installed them yet
Batteries shipped in time frame promised and they were very well packaged. Battery monitoring app works well on my I Phone 11. BMS showing all data, state of charge, voltage and temperature of individual cells etc. On/off switch for blue tooth signal works perfectly. Still waiting for my inverter to arrive before I can test and install in my 5th wheel. Will write another review then.